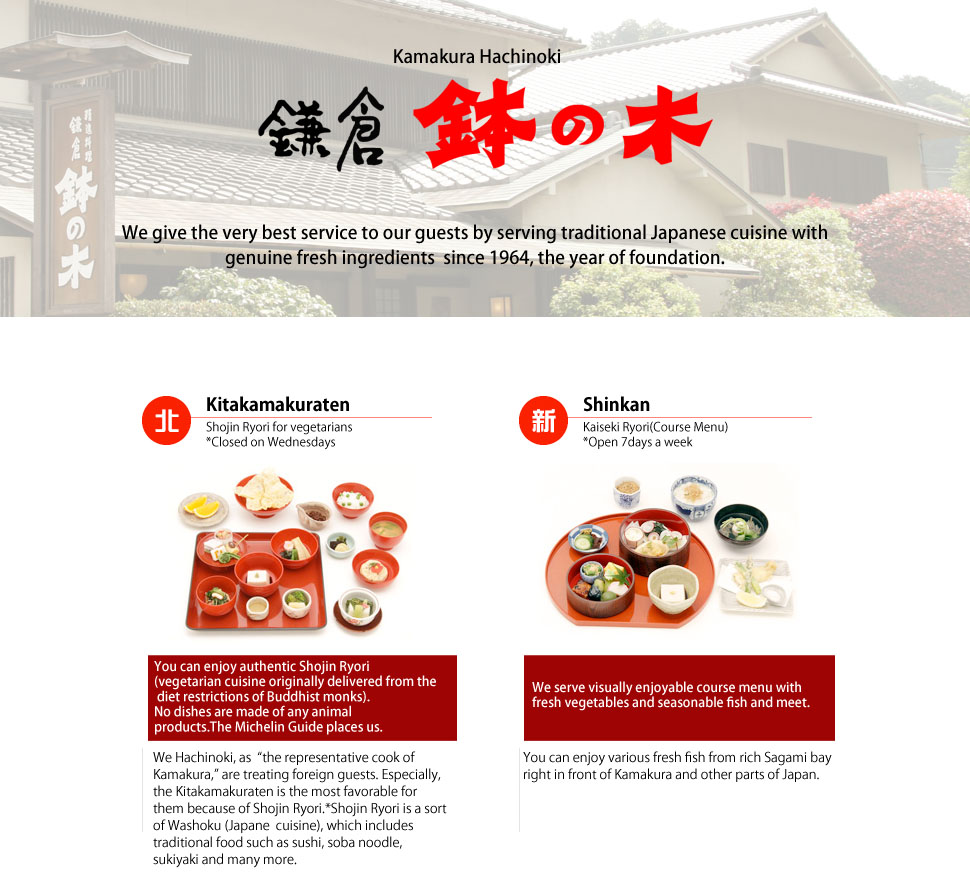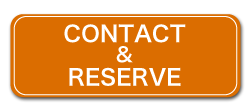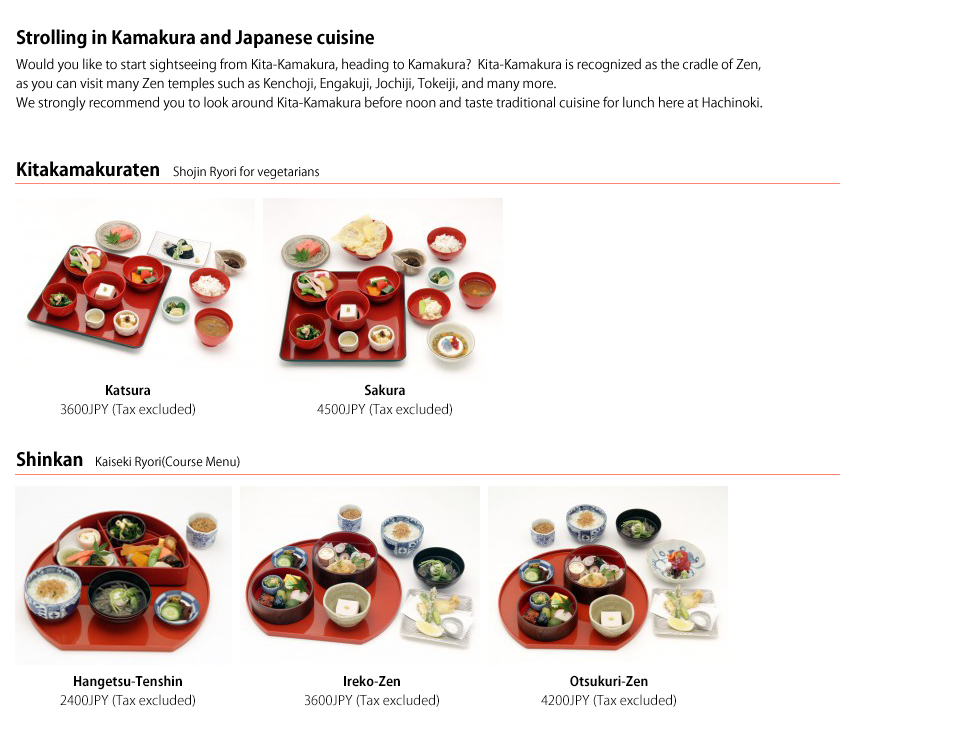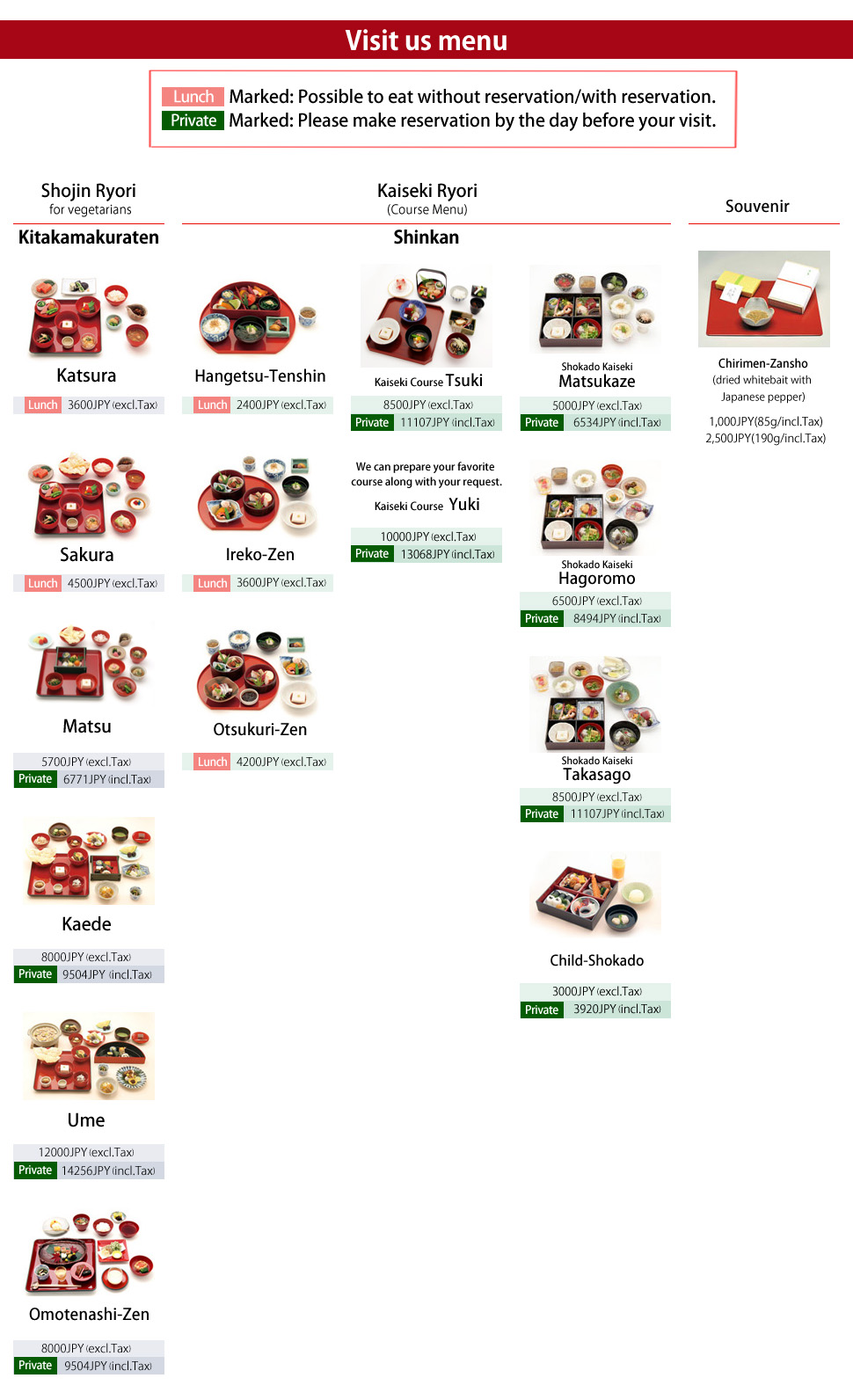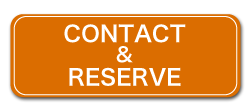 Kitakamakuraten
Kitakamakuraten is built in the style of a tea-ceremony house and located diagonally in front of Tokeiji-Temple and Jochiji-Temple.There are some private rooms and tea room available for big and small groups. They have various uses such as Buddhist memorial service and also gathering of family and friend.
You can enjoy authentic Shojin Ryori(vegetarian cuisine originally derived from the dietry restrictions of Buddhist monks). No dishes are made from any animal products.We prepare dishes with fresh and seasonal vegetables in witted and innovative ways.The Michelin Guide places us in succession.
■ Opening Hours

11:30-14:30(L.O.)/Weekdays11:00-15:00(L.O.)/Holidays
17:00-19:00(L.O.)/Dinner(Must be reserved by previous day(0467-23-3723)
Closed on Wednesdays

■ Access

Yamanouchi 350, Kamakura 247-0062 | Near by Tokeiji-Temple/Jochi-TempleAbout 5min. walk from JR Kita-Kamakura St. | Parking Available(Free) | TEL: 0467-23-3723 FAX: 0467-24-0340
Shinkan
The Shinkan is located just next to Kitakamakuraten. It has very bright atmosphere and has large hall where 80people can enjoy dishes at the same time.There is the murmur of a water stream at the traditional Japanese-style garden.Surely you can feel the fluctuating seasons of Kita-Kamakura.
We serve visually enjoyable course menu with fresh vegetables and seasonable fish and meat here at Shinkan.Here can be the place for wedding in the way of Buddhism or Shintoism, or banquet. Also, we can cater for a banquet.
■ Opening Hours

11:30-14:30(L.O.)/Weekdays11:00-15:00(L.O.)/Holidays
17:00-19:00(L.O.)/Dinner(Must be reserved by previous day(0467-23-3723)
Irregular holidays

■ Access

Yamanouchi 350, Kamakura 247-0062 | Near by Tokeiji-Temple/Jochi-TempleAbout 5min. walk from JR Kita-Kamakura St. | Parking Available(Free) | TEL: 0467-23-3723 FAX: 0467-24-0340